Le "Fonds Général" est essentiel au succès et à la santé financière d'African Inland Mission (Canada). Il s'agit du "pain et du beurre" de l'opération, qui fournit des fonds pour couvrir les coûts opérationnels, y compris les services publics et la rémunération de certains employés de soutien, sans lesquels l'AIM ne peut exister. Bien que nos membres fournissent une petite partie de leur soutien pour compléter nos dépenses, notre désir est de maintenir ces allocations aussi basses que possible. Cela permet à la majorité du soutien collecté d'aller directement à leur travail dans le ministère interculturel. Un solde solide dans notre Fonds général nous permet de rester viables en continuant à répandre l'Evangile et à voir des "Eglises centrées sur le Christ parmi tous les peuples africains – avec une priorité pour les laissés-pour-compte".
AIM Canada's General Fund
The "General Fund" is pivotal for the ongoing success and financial health of African Inland Mission (Canada). It is the 'bread and butter' of the operation providing funds to cover operational costs including utilities, remuneration for some support staff without which AIM cannot exist. While our members provide a small portion of their support to supplement our expenditure, our desire is to keep these allocations as low as possible. This allowing the majority of support raised to go directly to their work in cross-cultural ministry. A strong balance in our General Fund enables us to remain viable in continuing to spread the Gospel and seeing "Christ centered churches among all African peoples' – with priority for the unreached".
Give Online via any of these methods:
Donnez en ligne via l'une de ces méthodes:
Give via e-Transfer, Pre-Authorized Withdrawals or the Mail: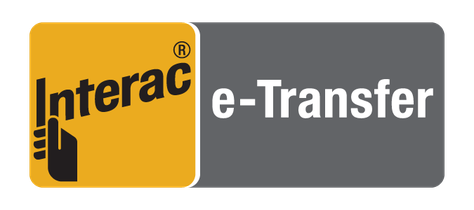 Send transfer to:  finance.ca@aimint.org
In the memo, please note three items:
The name of the missionary or project.
Your mailing address, for your receipt.
Your email address.
There is no need for a security question as AIM Canada is registered for Interac e-Transfer Autodeposit.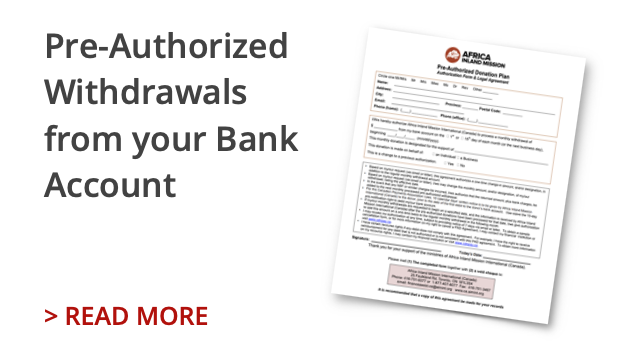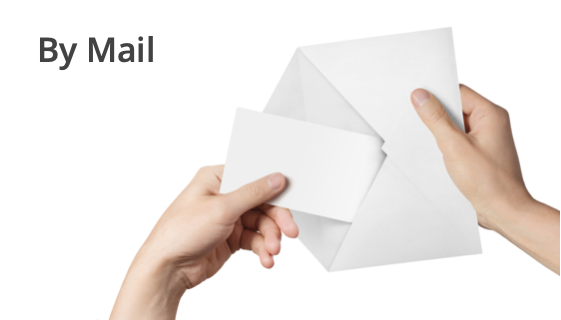 Please make your cheque payable to:
Africa Inland Mission Canada
Please Include a separate note identifying the missionary or project.
Mail to:
Africa Inland Mission Canada
25 Faulkland Rd
Scarborough, ON M1L 3S4
Trois autres façons de donner:
Transfert électronique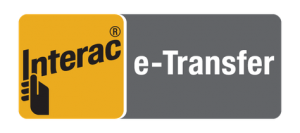 Envoyer le transfert à finance.ca@aimint.org
Dans le mémo, veuillez noter trois éléments:
Le nom du missionnaire ou du projet
Votre adresse postale pour votre reçu
Votre adresse e-mail
Dons mensuels pré-autorisés
Si vous projettez donner mensuellement, nous recommendons que vous mettiez en place des retraites automatiques préautorisées de votre compte bancaire. Pour ce faire, veuillez télécharger et remplir ce formulaire, puis nous le retourner par courrier ou comme une pièce scannée jointe à un courriel, accompagné d'un chèque en blanc sur lequel vous aurez inscrit « NUL. »
Donner par courrier
Faites votre chèque payable à La Mission à l'intérieur de l'Afrique Internationale (Canada).
Veuillez inclure une note séparée identifiant par nom le missionnaire ou le projet.
Envoyez votre lettre à :
La Mission à l'intérieur de l'Afrique Canada
25 rue Falkland
Toronto, ON M1L 3S4.